Fire Alarm & Sprinkler systems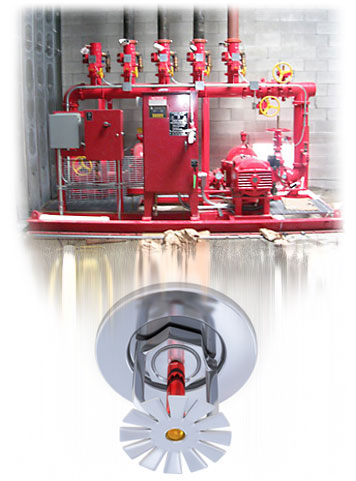 Fire Alarm Systems - The Fire Alarm Systems that we install are appreciated for their exclusive features. The main purpose of fire alarm system is to give warning of fire well in advance so that people can be evacuated the premises and immediate action can be taken to stop the fire as soon as possible. The Fire Alarm System can also be incorporated with AHU, AC supply, access control, fire fighting systems, BMS and others.
The alarms can be activated by using automatic detectors or by manual call point. The products that we offer are designed and install as per the requirements of the customers. Our competency lies in customizing to match the specifications provided by the client and deliver within the set time frame. The fire alarm system comes with the following components:
Fire Sprinkler Systems - The Fire Sprinkler Systems that we install and maintain are an active fire protection measure that consists of a water supply, provides enough pressure and flow rate to a water distribution piping system, onto which fire sprinklers are connected. We attempt fire sprinkler with high quality standards and design.

Our fire sprinklers are widely used for active fire protection measures. Our fire sprinklers are automatic and operate at a preset temperature, utilizing a fusible link, a portion of which melts, or a frangible glass bulb containing liquid which breaks, allowing the plug in the orifice to be pushed out by the water pressure in the fire sprinkler piping that results in water flow from the orifice.

Types of fire extinguishers
Fire alarm panel Smoke detector
Hooter and siren Strobe light
Stand alone smoke detectors
Stand alone heat detectors
• Stand alone LPG detector