Fire Security & Access Control Systems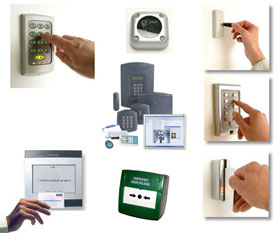 If you wish to control the access to your property or organization we can install anything from a stand-alone door system to a multi-door networked computerized system to meet your requirements.

From checking the identity of a person visiting your premises, to requiring 24 hour code key or swipe card access. FAS is able to provide the right solution at the right price.

Integrated audio or video entry systems enable you to monitor, control and verify access to any area of private or industrial operation. This includes the ability to remotely access the system to authorize or decline entry.
All systems can be integrated with both new and existing CCTV apparatus, including optional automatic video recording for a permanent record of all callers and potential intruders, providing a reliable means of reducing or even eliminate guard costs.

We can also supply a full range of equipment, from wall and desk mounted handsets, through smart card readers to video monitors with front door panels, all in a range of colors and finishes.:
Summary
Magnetic Door Rim Releases
Electric Releases, Keeps and Strikes
Time attendance software and integrated solutions
Control Door entry systems